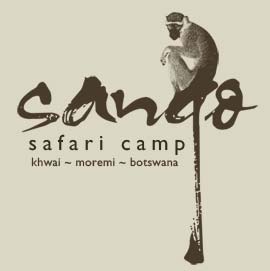 The calming sound of water ripples gently bumping against the bank of the Khwai River soothes the sound of the Lilac Breasted Roller cries from the trees enveloping above the Sango Safari Camp site. An exquisite escape from reality, Sango Safari Camp is an oasis along the Moremi Game Reserve on the outskirts of the traditional Khwai Village. 
With the exceptional placement of the camp, guests have the unique opportunity to enjoy freely roaming animals from the Moremi Game Reserve and the Kwai Concession. Elephants and Giraffe graze close enough to hear them as they move past in a slow procession, almost boasting their peace and utter bliss living in a respected animal sanctuary in North West Botswana. 
The camp boasts many fun and enjoyable that promise to fulfill every guests needs in game experience. Open vehicle game drives, guided bush walks and night drives. A unique climate and a variation between permanent and non-perennial water sources as well as a diverse array of habitats allows for a variety of animals that compares to no other place in Botswana. The river creates a natural boundary between reserves allowing Sango Safari Camp to enjoy the best of both reserves freely roaming animals.

Situated so close to the Sango Village, Sango has ties with the people that ensure that mutual respect will be maintained for generations to come. Guests have the opportunity to experience what it is like to live in their environment. The Sango people are now also part-owners of the Camp allowing us to share respect and learn about the land from indigenous people who have lived in the land for generations. Guests have the opportunity to learn from the Sango people and exchange stories on life and love.
Visit Travel Adventures Botswana for more information and booking details.  Click this link for more information.