Some were "bush virgins" and had never been camping or even off road before. Some were nervous and would only go if they were promised some "steel" between them and the lions at night. Others were "bush pros", but all 12 of us were excited about our trip to Mabuasehube, Botswana
Text and Photography: Sandra Ronniger-Hughes
We all met in 2012 during a Field Guide Association course. We shared a passion for wildlife, and anything to do with nature. When we qualified at the end of October 2012, we made a promise that we would go on a bush trip together in 2013.
Although we had a common interest, the group had a wide diversity of characters, which promised to make the trip a bit more interesting. As we had decided to go "bush rough", it was felt that if everyone enjoyed the experience, they would certainly be eager to go on more trips in the future, regardless of the facilities on offer.
By "bush rough" we referred to the sparse facilities at a place like Mabuasehube in the Kgalagadi Transfrontier Park. The camp lies on the Botswana (eastern) side of the park, where there are a number of campsites overlooking the pans.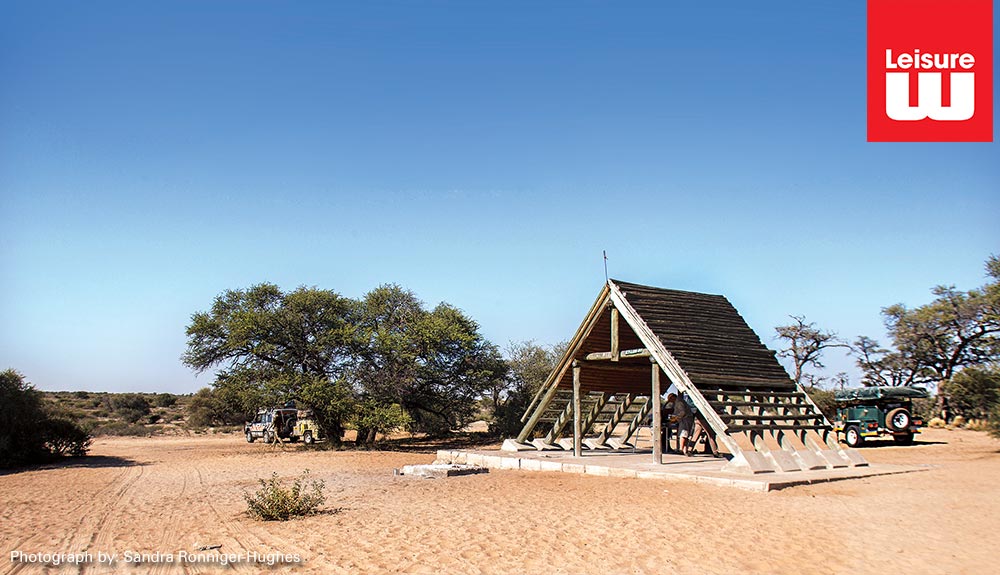 After much anticipation, the fateful day finally arrived. My husband and I left on a Saturday to meet our group at the Tarlton fuel station. Everyone was excited when we finally departed at 06h30 in convoy en route to Ventersdorp on the N14. Our vehicle was the slowest, so we led the way.
As there were six couples and our stay at Mabuasehube was for six nights, we decided that each couple would be in charge of cooking one brunch and one dinner for the group. This worked out very well and we all looked forward to seeing what the others would produce. Needless to say, we had wonderful meals, such as an ostrich egg omelette that could have fed 24 people, beef espetadas, lamb neck stew, quesadillas, a champagne breakfast, freshly baked bush bread and a braai pie!
On the way, we stopped at Kuruman to fill up with diesel and stretch our legs. We were surprised to find that the garage could not take credit or debit cards – only cash or garage cards.
We then headed for Hotazel and hit the long gravel road to Springbokpan Guest Farm. It's a lovely, convenient stopover, 7km from Botswana border. We were so happy with our stay that we booked for a night on the return trip. When we arrived there at 16h30 we had travelled a total of 693km.
We had arranged for dinner, and the food, accommodation and service were great.
We distributed the bags of wood and ice we had also pre-arranged with the guest farm among the vehicles, left at 07h30 and reached the McCarthy's Rust border post only ten minutes later.
The SA side of the border was an unpleasant experience. Although we had the correct forms, they checked the details of all our cameras.
We finally entered the Botswana border post at 08h45 and were through by 09h20. (The road tax for Botswana had gone up from the expected P110 to P140!
We made our way to Tshabong, 25km from the border post, topped up on diesel and filled our jerry cans at A&B Spares petrol station (which is open from 07h00 to 21h00 and takes all cards) and then headed for the Kgalagadi park. We hit the gravel road within 3km of the fuel station, and another 72km later, sand.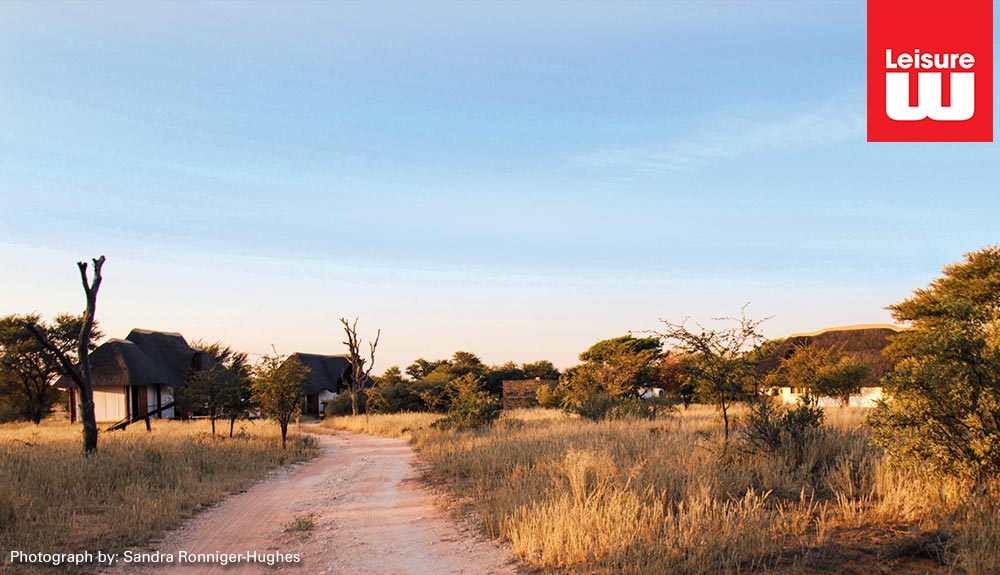 We stopped for our second breather and to deflate tyres, discussing driving techniques with those who were new to this surface. After about 40km of sandy road, we arrived at the Mabuasehube gate. Only one vehicle had suffered a flat tyre, which we fixed easily with a plug. The two-wheel drive Fortuner had no problems.
It had taken us three hours to get to the gate from the Tshabong stop, and we were now 839km from Johannesburg.
We took a leisurely 23km drive from the gate and arrived at our campsite at 15h30. There was running water, clean and maintained toilets and showers at the gate, and friendly staff came to remove the rubbish from the bin at the site – to our delight – during our stay.
Our booked campsite was at Lesholoago 1 Pans. Some of the campsites consist of A-frame shelters on cement slabs (with latrines), and some have a shower shelter where you can hang your own bucket shower.
Our campsite did not have water, but the Lesholoago 2 campsite did. We had been advised that it could happen that the water pump may not be in working order or the campsite could be occupied. Therefore, as part of our preparations, we had packed enough water, going on the assumption that none would be available.
For the next five days, everyone did as they wished. Being keen photographers, we were up early every day hoping for shots of Kalahari lions. Sadly, we didn't see one lion during our entire stay! We heard them one night and tried to find their spoor the next day, but had no luck.
We did, however, see leopard. One of the sightings, by Karen and Thinus, was of a leopard trying to steal a wildebeest head from a brown hyena.
We saw numerous jackals, oryx, springbok, wildebeest, kudu, steenbok and meercats.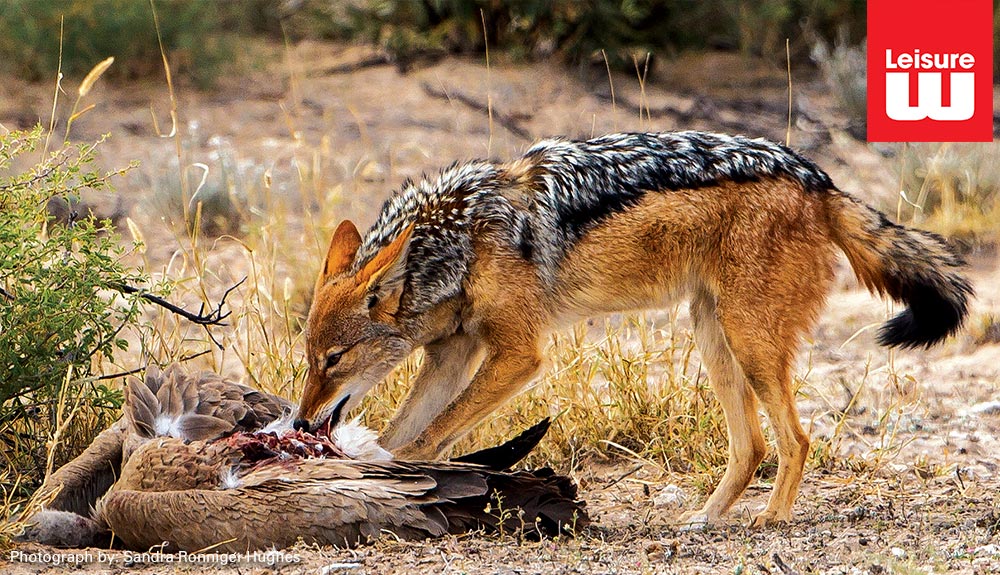 Every night we were visited by a Cape fox and brown hyena looking for food scraps.
We also spotted a few Bateleur eagles and various bird species, including a sand grouse that flew to the water hole at 09h00 every day, despite the attentions of a Lanner falcon.
My husband was shooting at 1/4000 of a second, but the Lanner was still too fast to freeze on film! We only managed to capture the scene when the Lanner eventually ate the sand grouse on the ground!
The nights were very quiet. We had expected to hear many animal noises, as well as crickets and other little creatures around the campfire. But Mabuasehube offered the complete opposite – quiet and calm – which was astounding.
We did a lot of driving in search of the Kalahari lions, and despite our bad luck, the stay was fabulous. We enjoyed the company of good friends, the food and drink, the fantastic atmosphere and breathtaking landscapes, and the pans of Mabuasehube.
On our second day in the park our Toyota Land Cruiser got a flat tyre. With some help from Bernadette and Antoinette, who were on their way back to camp having just had a shower at the main gate, we managed to change the wheel using the hi-lift jack.
However, because we'd never used the hi-lift jack before, we didn't know how to release it.
Our friends Gerhard and Brenda had told us a story of a previous occasion when someone lost a thumb because he used the jack incorrectly. Fortunately, Gerhard had also advised us that when faced with a difficult situation in the bush, you shouldn't rush into anything. First, have a kop oopskieter – which basically means that you should first have a drink to clear your head and give you time to think about your predicament.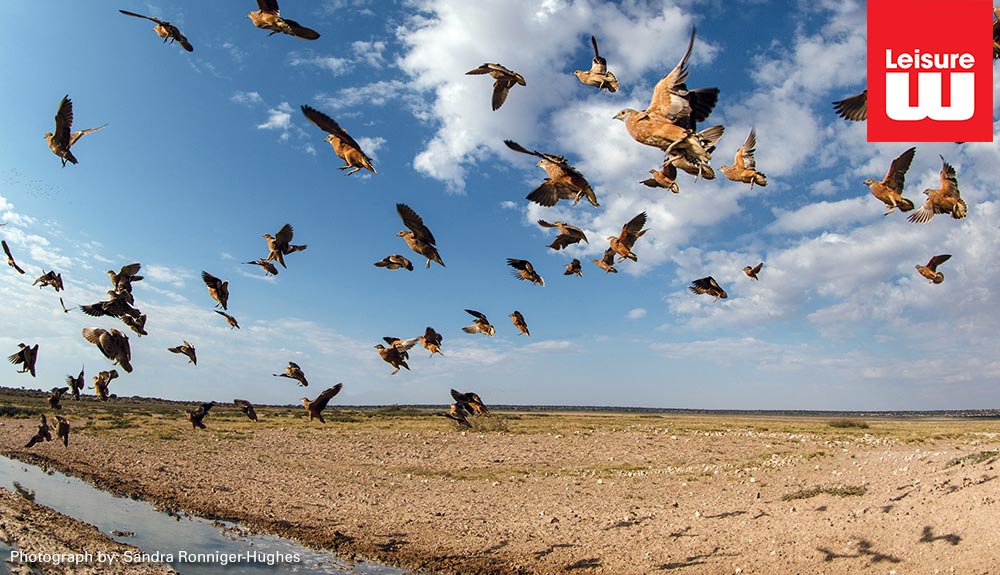 That was excellent advice. As we were hesitant about releasing the jack and perhaps losing a limb, we had a kop oopskieter and waited for Cobus and JD, who knew about hi-lift jacks, to come to our rescue, and all ended well.
Finally, and sadly, our last day arrived. We packed up, and after a final group photograph, left the campsite at 11h00. We drove back the same way, reached the border post at 15h15, and were soon at Springbokpan Guest Farm.
They had again prepared a lavish meal, this time in the boma. After a most enjoyable last night, we left at 07h00 the next day and stopped for a quick breakfast at Komtekkie restaurant at the Shell fuel station outside Delareyville. The breakfast was scrumptious and the service excellent.
We stocked up on biltong for the last part of the trip, and were back at our starting point from a week earlier by 17h00.
We didn't really say our goodbyes then, as we'd already begun planning our trip for next year. Would it be Hwangwe, Gonarezhou or Mana Pools?
It was an excellent trip with fantastic friends, and there will be many more. There are no longer "bush virgins" among us, and by next year I doubt there will be any rented vehicles, either. We will all be "bush pros" and hi-lift jack gurus, equipped with our own bush and camping necessities.
We have so much admiration for the absolute splendour and tranquillity of the African bush. One should experience it while it is still within reach.