What do you get when you mix six couples with six off-roaders and two countries? An epic adventure, that's what!
Text and photography: Sandra Roniger
We were six couples with six vehicles and we had planned a 12-day holiday together, but before we get going, an introduction is in order.
The travellers were Sandra and Gary in a Toyota Land Cruiser 78, Gerhard and Brenda in a Discovery 3, Cobus and JD in a Land Rover Defender 130, Bernadette and Antoinette in a Hilux D4D, Thinus and Karen in a Fortuner 4×2 and Anne and Carla in a Fortuner D4D automatic.
Four of these couples decided to go with a ground tent while the other two went for the rooftop option.
The trip began from Johannesburg on Friday, 6 June, where four couples met at the Petropoort fuel station, with Kwa Nokeng Lodge in Botswana as the first destination.
We had a padkos break and arrived at Martin's Drift border post at 16:20 after a 440km drive.
After clearing the border post that included road tax payment of 190 pula for a vehicle and 330 pula for a trailer, we soon arrived at the lodge. Traditional G&T's were much needed after the long but pleasant drive.
The following day, after collecting our pre-packed breakfast, we filled up at a going rate of 9.82 pula per litre, which is much cheaper than the cost of South African fuel.
Heading for Elephant Sands at Nata, we travelled on the B140 and then the A1 via Palapaye and Francistown and the A3 to Nata. We had experienced serious potholes soon after crossing the border, but things improved thereafter and we only encountered potholes here and there.
We enjoyed our packed breakfast some 20km before Palapaye and went through one veterinary fence about 74km from Francistown, but the officials seemed to be checking only Botswana-registered vehicles.
At Francistown we decided to take a detour to avoid getting stuck in traffic. Once past some  road works we encountered another "vet fence" 47km from Nata. The official very politely asked for two beers. It was a Saturday, he was thirsty and apparently did not seem in the mood for checking vehicles.
After stopping for refreshments at the lovely Nata Lodge, we embarked on the final stretch to Elephant Sands, about 53km from Nata. We had now travelled 918km since leaving Johannesburg. The two couples still to join our convoy, Bernadette and Antoinette and Anne and Carla, left Johannesburg at 4am on the Saturday and drove all the way to Elephant Sands, arriving at 6pm. It was fun to be together, and we enjoyed the evening, relaxing on the restaurant patio and watching elephants calmly drinking at the waterhole.
After a scrumptious breakfast, we hit the road for Zimbabwe via the Pandamantenga border post. The 135km stretch to the border had recently been tarred. What a pleasure – with the prospect of more dirt to come.
It took all 12 of us mere minutes to go through the Botswana side of the border, but it was a different story on the Zimbabwe side. We were clearly tourists, but it took more than an hour to get through.
The paper work and road tax part was dealt with fairly quickly, but it took the policeman a long time to check the vehicles. He asked if we had any guns and/or beers. None of us had guns, but we were not going to hand over our beers. The last couple, however, had some beers in plain sight, so unfortunately some beer had to stay behind.
The police official was not happy about our radios, which we had hired in Johannesburg to communicate with each other. We explained that they were on a private channel and after much persuasion he let us through. Perhaps we should have hidden the radios, but would that not have just raised suspicions if they were found?
The Zimbabwe road tax is based on the vehicle's weight, and for our Toyota Land Cruiser 78 we paid US$90. The two vehicles with trailers had to pay the equivalent of R720. One of the ladies did not travel on a South African passport and paid $55 for a visa, which was obtained without problems.
 Zimbabwe challenge
Once through the border we stopped for some roadside refreshments, and then set off first for Hwange, which was around 260km away, after which we'd head for Robin's Camp, which would add another 65km to our tally. We had booked and pre-paid long in advance, but were soon faced with another Zimbabwe challenge.
The confirmation booking form states that the entry fee is $10, but the official tried to make us pay another $20, because we were staying at two different campsites. We asked for proof that this was necessary, and when we demanded to see the "supervisor", it was agreed that in fact $10 was the right fee, as per our receipt.
We finally got to our camping site at Deteema Dam at about 5pm, and were rewarded by the sight of some lions lying on the dam wall.
The enthusiasts got up early to go in search of the lions, which we had heard roaring during the night. Although there were spoors right outside our tent, we saw only one lioness, from afar, during our five-day stay at Deteema. This was especially frustrating because we often heard them roaring at night.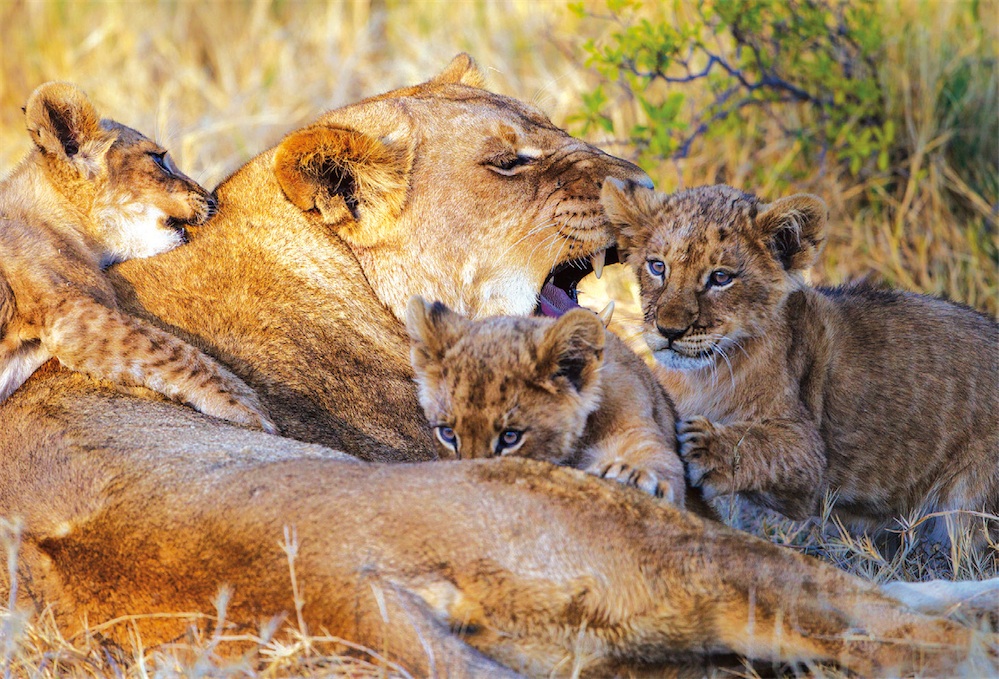 From our base at Deteema we explored Big Tom's, the salt pans, crocodile pools and Masuma Dam – all lovely places. We counted 71 bird species in total.
The elephants we saw during our stay in Hwange were rather aggressive, but this was probably because of the poaching going on there, and the presence of quite a few babies in the herds.
The Deteema camping site was in a lovely setting and two rangers came every day to clean the fireplace and the facilities, which consist of an outside bucket shower and two flush toilets. (You need your own bucket and rope for the shower.)
There was a reservoir from which running water was made available for the toilets, basin and a tap outside. For a fee of R50 each per day, our two rangers also arranged that we had firewood daily.
Not far from the camp is the Deteema picnic site where there are fossils of the Dadoxylon trees, dating from some 200 million years ago.
On Friday, June 13, we packed up and headed for our new camping site at the Mandavu facility, about 20 minutes away. This is a lovely campsite with a stunning view over the massive dam. It was spectacular during the day and even better in the moonlight.
Here we had a clean, hot shower using the donkey boiler system, and two flush toilets. (There's no need to bring your own shower bucket at this campsite).
The campsite is very spacious, but one must bear in mind that this is not a private campsite as day visitors are allowed in from 06:30 to 18:00.
We visited the Sinamatella Camp, which has the most amazing view over the Hwange Park. It must have been wonderful when there was plenty of game on the plains.
Accommodation is available, but the restaurant and bar, which must have been stunning in its day, is non-functional and dilapidated. There is a "shop" which was stocked with beers, cigarettes, sugar and some cleaning products.
With permission, we visited the South Camp at Kapula Camp. It is a private, tented camp with spacious, furnished tents and en suite bathroom facilities. This camp didn't have dam views. We were unable to visit the North Camp as it was fully booked, but a ranger told us it was a better bet as the tents were on stilts. But they cost $70 per night per person.
We also visited Masuma Dam, where the camp was slightly smaller but as luxurious as Kapula. There does not seem to be much privacy as it is very open, and day visitors come and go to the viewing deck to see the hippos and crocodiles in the dam.
On our second last day we took a long drive and stopped for a bush breakfast at Baobab Pan – a very small waterhole where three elephants were enjoying a drink. Despite its name, we did not see any baobab trees, but still enjoyed the pleasure of being able to eat out in the wild, listening to the sounds of the African bush.
Back to Botswana
For most of us the trip ended on the Tuesday. Over the past 11 days we had driven a total of 1672km. Part of the group was returning home, but we were fortunate enough to join Thinus and Karen for another week of safari action in Botswana.
We drove back to Botswana via the Pandamatenga border post. The Botswana side was as pleasant as usual, though the officials checked that we had no meat, vegetables or fruit, which cannot be taken into the country – if approached from the north.
We reached Nata at 15:00 and turned onto the A3 en route to Maun. We had to slow down some 120km from Maun as the tar road was riddled with potholes.
We spent an enjoyable day in Maun, where we replenished our food and drinks before heading off to Moremi Gate and the Kwai camping facility on the Thursday.
We went through various vet fences on the way to Moremi, but apparently there are no checks on vehicles going north and we were waved through all of them. (Vehicles going south are checked for meat, which is confiscated if found.)
It took us two hours to reach Moremi Gate from Maun as the sand road was badly corrugated. Thankfully the accommodation was good and there were numerous spotlessly clean ablution blocks, all with hot showers (from solar panels) and flush toilets.
We spent five nights at Moremi Khwai and each night had hyena visitors, so all food and rubbish had to be locked away. In camp, one must ensure that the tent, car windows and roof are closed, otherwise food is "stolen" by the very clever Vervet monkeys.
One of the highlights of our Botswana adventure was watching a pride of lions with their three cubs.
The vegetation is different from Hwange, mostly because of the abundance of water in the Moremi region. This means there is more game, including friendlier elephants.
We also enjoyed a mokoro ride on the Khwai River – very tranquil!
The sand roads around Moremi are in good condition, but one must be careful in some spots where the sand can be very deep. When close to water, the road can become waterlogged and it's not a good idea to attempt to go through the black, cotton-like soil. Rather turn around and take another route.
Returning home
Sadly, our trip had to come to an end. We left Moremi on the Tuesday morning and made our way back to Johannesburg via Maun, Palapye and Martin's Drift border post. We arrived home at exactly midnight, having left at 06:45 and covering an exhausting 1351km. This might be a feasible distance on good roads, but it was a very tiring trip on the sandy, potholed roads, not to mention the roadworks. Next time we will definitely stop overnight somewhere.
All in all, we had an amazing time, sharing and appreciating the beauty and serenity of the African bush with our friends.
Border post hours
Martin's Drift/Grobler's border post: 06:00 to 22:00
Pandamatenga border post: 08:00 to 17:00
Exchange rate (at the time of going to print)
Dollar to Rand: R11 for one USD
Pula to Rand: R1,22 for one Pula
Summary of 19-day trip in Toyota Land Cruiser
Total distance, 3877km, broken down as follows:
Day 1 – Johannesburg to Martin's Drift, 440km.
Day 2 – Kwa Nokeng Lodge to Elephant Sands Lodge, 500km.
Day 3  – Elephant Sands to Pandamatenga border post, 150km; Pandamatenga to Hwange Game Reserve, 262km; Hwange to Robin's Camp, 60km. Total distance within the Hwange Game Reserve, 364km.
Day 12 – Hwange Game Reserve to Maun, 504km.
Day 14 – Maun to Moremi Khwai North Gate, 123km. Total distance travelled within Moremi Game Reserve, 124km.
Day 19 – Moremi to Maun, 123km; Maun to Palapaye, 557km; Palapaye to Martin's Drift, 231km;  Martin's Drift to Johannesburg, 440km.
Fuel consumption
We used a total of 612,35 litres of diesel that cost 4960 pulas, plus R1242.
Important tips
When travelling in the bush we always take a spare car key, just in case. In addition, when in a group, we switch our spare car keys with each other, so preventing one's own spare key from getting locked in the vehicle!
Take your confirmation of bookings, receipts and proof of payments with you. Make sure you keep all papers that officials give you at border posts. Make copies of your passport, vehicle papers and any official documents in case the originals get lost.
When travelling in Zimbabwe, you need red reflector tape on both sides on the back of the vehicle and white reflector tape on both sides at the front. Trailers must have a red reflector tape in the shape of a T.
Take some US$1 notes for the Zimbabwe road tolls.
– See more at: Leisure Wheels